Pregnancy Chiropractic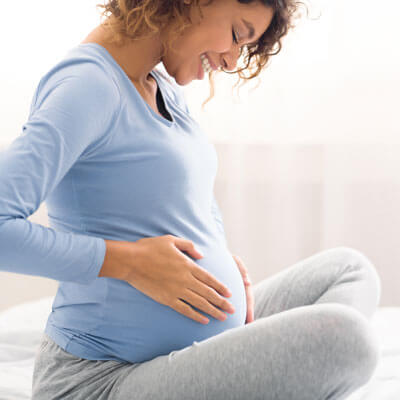 I have loved my treatments with Rebecca. She has helped so much with my comfort level during my pregnancy. Would recommend to EVERY expecting mother."
Maxine
Pregnancy is an incredible process. With each stage of pregnancy, your body undergoes extreme changes. Though some are amazing, like feeling your baby's first kicks, others can be a little unpleasant, such as aching in your back and pelvis. No matter how far along you are, you can begin chiropractic care at any time.
The Benefits of Chiropractic During Pregnancy
As your baby grows, pressure is put on various parts of your body, resulting in discomfort. Your center of gravity changes and pressure is placed on the lower back and surrounding soft tissues. Chiropractic may help ease that tension and any resulting imbalances.
Chiropractic ensures your spine is functioning at its best and promotes balance in your pelvis and surrounding soft tissues. This in turn creates the best environment for your baby to grow, develop and thrive, and for you to feel as comfortable as possible.
Our pregnant practice members report benefits such as,
Better Sleep and general Comfort levels
Easier Movement and Mobility
Higher Energy levels
Shorter Labour and Delivery times.
Our Mums-to-be build regular chiropractic care into their prenatal wellbeing routine. They love being adjusted and knowing they are supporting their body in the changes it is undergoing. When your body operates at its full potential, it can do incredible things!
When it comes to pregnancy care, we use an extremely gentle approach. We know you may feel concerned about your comfort when being adjusted, this is why we provide a pregnancy pillow to enable you to lie safely on your front throughout your session. During your session, we work on balancing your pelvis and relaxing the surrounding soft tissues. We can address specific issues such as Pubic Symphysis Dysfunction, pelvic and sacral pain, neck and upper back tension and lower back pain.
Our methods include the Webster Technique specifically designed for pregnant women.
Our practitioners want to make sure your body gets all the care it requires for you to feel as good as possible throughout your pregnancy. At our practice, we take an individualised approach to care. This means any recommendations made to you will be based on your needs, goals, and lifestyle, alongside the findings from our thorough evaluation process. You'll get just what you need-no more and no less.

We recommend you contact us as soon as you find out you are expecting. You don't need to wait for any particular stage in your pregnancy before beginning care. Chiropractic care can form part of a healthy prenatal routine so starting before conception also has its benefits.
How often will I need to see you?

Typically, pregnant women come in once a week to keep on top of the many changes taking place in the body. If you have a particular complaint when you first come in, we may recommend more frequent visits to begin with. Many factors can affect individual cases, so we tailor your care to your needs, whether you are a new practice member or already under care.

Pregnancy Chiropractor in Hungerford, Newbury, Marlborough BRK | 01488 683 666