Meet Alicja Ogonek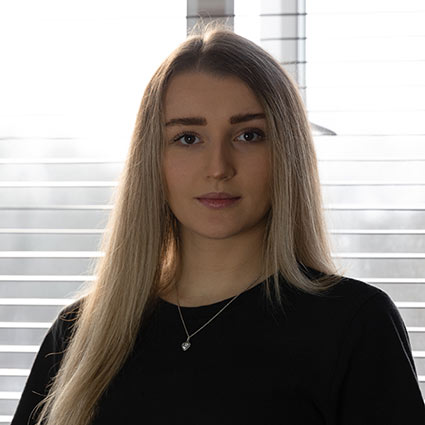 Before becoming a massage therapist, Alicja took various public service courses and had planned to become a police officer. She's pleased that she took a different route, as it makes her happy to help practice members through massage therapy and see the difference it makes in people's lives. "It's such a fulfilling role to play in people's health and wellbeing."
Qualifications and Experience
Alicja earned an ITEC Level 3 Diploma in Holistic and Therapeutic Massage from the Oxford School of Massage. While in college, she did a Level 3 sports course and considered a career in sports massage. She later learned about holistic massage and signed up to take a course in it. That's how her holistic massage career took off.
In addition to holistic massage, Alicja will soon be trained in pregnancy and deep tissue massage. After that, she has many goals to achieve when it comes to different massage techniques like – hot stone massage, lymphatic drainage and massage to help cancer patients. "I'm always trying to learn new techniques."
Before joining the Hungerford Chiropractic & Physiotherapy Healthcare team, Alicja worked in the spa at the Donnington Valley Hotel & Spa, a 4-star hotel, for over two years. While there, she provided massage to a variety of clients with different needs, whether it was relaxation or relieving muscle tension.
Alicja looks forward to being able to care for our practice members new and old and build great relationships with them.
My hope is to provide an environment that people want to return to again and again, aiding their overall wellbeing. We live in a high-stress world and massage plays an integral part of self-care and taking the stress off of our bodies.
In Her Spare Time
When Alicja is not at the practice, she enjoys spending time outdoors, walking in nature and enjoying the fresh air. She also loves to go back to see family and friends in Poland when she can.
Book a Session
Contact us today to schedule a massage session with Alicja!

Alicja Ogonek (Massage Therapist) | 01488 683 666